There is little disagreement among political philosophers, democratic theorists or empirical researchers that freedom and equality are the two core principles of liberal democracy. What is highly disputed, however, is the meaning of these two democratic principles and the proper relation between them that makes for a good political order. Here we focus on the assumption that there is a trade-off between freedom and equality. 'Trade-off' means in this context that both principles cannot be maximised at the same time. Our investigations of data from democracies stretching over more than two decades lead us to reject the trade-off assumption which has a long tradition from Alexis de Tocqueville through Friedrich August von Hayek up to today's liberals. On the contrary, we can show that freedom and political as well as economic equality are mutually reinforcing.
Tocqueville's trade-off between freedom and equality – and its opponents
Tocqueville's book Democracy in America is the most obvious example of a work in democratic theory that identifies a trade-off between freedom and equality. Tocqueville sees a fundamental tension between freedom and equality in general and between majoritarian democracy and individual freedom in particular. In his opinion the relentless drive towards political and social equality in democracies raises the threat of a tyranny of the majority, confronting the people with the choice between democratic freedom and democratic tyranny. The problem of America's democracy, in particular, is the unrestricted power of the majority. Too much political equality in politics, society and economy weakens the institutional guarantees for individual and minority rights.
Tocqueville's argument rests on the assumption that individuals have a clear preference for equality. The same assumption holds at the macro-level of the political order. Democracy unleashes struggles among groups and individuals alike for more equality. It triggers political action for the equalisation of power, property and status among citizens at the expense of freedom. Therefore, every democratic political order has to institutionalise controls to secure freedom in order to prevent a tyranny of the equality-driven majority.
Rousseau's work On the Social Contract constitutes the antipode to the trade-off argument in classical political philosophy. His argument is that people can only be free if they remain politically equal. Political equality, in turn, can only be achieved if social inequality is as meagre as possible. Men are essentially free and equal in the 'state of nature', but the progress of civilisation and the inequality arising from private property destroyed both – first equality and then freedom. Here, we also find a clear distinction between two types of equality: political equality, in the form of direct democracy incorporating all citizens, and socio-economic equality, which is endangered by private property.
We do not deny that individual freedom is desirable independently of its positive (or negative) relation to equality. We also acknowledge that equalitarians may consider equality of such importance per se that they would even pay for it, if necessary, with reduced freedom. This ongoing normative debate between libertarians and equalitarians cannot be decided – neither here nor probably anywhere else, for that matter. However, what can be done is to test whether the widespread 'Tocquevillian fear' of a trade-off finds empirical support in contemporary democracies – or, alternatively, whether there is evidence for a positive association between freedom and equality (as argued, for example, by Amartya Sen). In other words, it is possible – perhaps even necessary – that both principles are realised by one and the same democratic system. Moreover, do these patterns change if we distinguish political from socio-economic equality? Especially the latter type of equality is deemed by thinkers such as von Hayek, Friedman and Nozick to decrease political freedom. Hence, the trade-off might be reformulated to hold that there is a negative relationship between socio-economic equality and freedom while there is no such – or perhaps even a positive – relationship between political equality and freedom.
Data and measurement
To test the trade-off assumption, we use data from two sources: The Democracy Barometer offers information on political freedom and political equality over time for a large number of countries. The concept of freedom incorporates property rights and their protection vis-à-vis the state. It encompasses individual liberties such as physical integrity as well as freedom of religion, opinion, information and movement. It also includes the right to organise and form social alliances as well as the strength of civil society itself. Equality is conceptualised as political equality– excluding, for example, socio-economic inequalities. The general idea is that all citizens must have equal access to political power, de jure and de facto. In addition, we require a reliable indicator for socio-economic equality. We used the net Gini coefficient (post-transfer and post-tax) as a representation of income inequalities from the World Income Inequality Database. On this basis we are left with yearly data on 54 countries for the period (mostly) from 1990 to 2012 – all in all, 1141 cases (country years).
Testing the assumptions
What is the empirical relationship between freedom and equality? As a first step, we present in Figure 1 the graphical association of freedom (y-axis) and political equality (x-axis). Clearly, the figure shows a positive relationship between freedom and equality. High levels of political freedom go hand in hand with political equality and vice versa. Realising both core principles of democracy at the same time, then, is not at all impossible. This finding holds for all levels of both principles. The pattern is neither more nor less prominent at low values or high values of freedom or equality.
Become a Social Europe Member
Support independent publishing and progressive ideas by becoming a Social Europe member for less than 5 Euro per month. Your support makes all the difference!
Click here to become a member
Figure 1:  Freedom and political equality (N = 1141).
We added a dashed line to the figure simply to represent identical values on both axes. The cases are more or less equally distributed above and below the line. This indicates that freedom translates nearly one-to-one into political equality and vice versa. These findings strengthen normative considerations that freedom and equality have to be considered 'co-original' in democracies.
Turning to socio-economic equality, there seems to be a negative relationship between inequality and freedom (Figure 2). Higher levels of freedom are associated with lower levels of socio-economic inequality. In other words, we see the same substantive relationship as in Figure 1. The distribution of cases runs from the upper left to the lower right simply because high Gini coefficients represent less equal societies. Again, the evidence points to mutual compatibility, not mutual exclusivity. The vast majority of cases are located below the dashed line. In comparison to Figure 1, higher values of political freedom are necessary to find equally high levels of equality.
Figure 2: Freedom and socio-economic equality (N = 1141).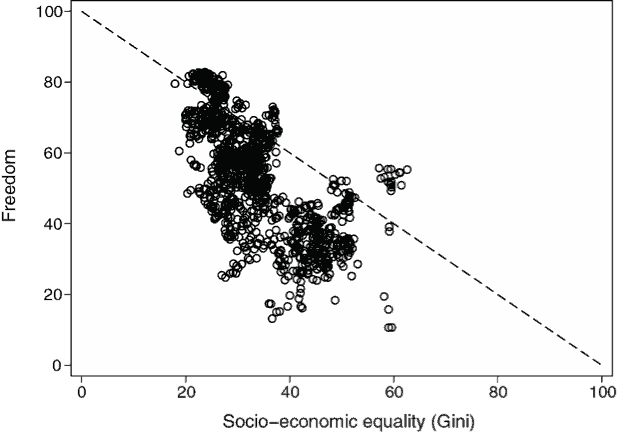 Considering together the evidence provided by the two figures, we find no support for a trade-off but strong evidence for a positive association. At the same time, there is no clear-cut difference based on the type of equality. Both political and economic equality associate with higher political freedom. Analogous to the figures above, two models were tested. The results are clear: More equality is associated with more freedom, even if a more rigorous test is applied. Hence, we can reject the trade-off assumption. Socio-economic equality does not lead to less freedom.
Taking all these results together, we find no evidence for a negative association between freedom on the one hand and the two types of equality on the other. Our results contradict the traditional libertarian fear of a trade-off between freedom and equality, as we find that the two core principles of democracy (freedom and equality) possess a mutually reinforcing association. We interpret this as a positive sign: it seems that societies and political orders do not have to decide between the two principles but can pursue the maximisation of both freedom and equality. This does not mean, of course, that representatives of normative theory or real-world politics cannot pursue one over the other. We would maintain, however, that any arguments to this end should no longer rest on the claim that the two principles are mutually exclusive in modern democracies. At least for democracies the old liberal and libertarian suspicion, if not battle-cry, that more equality restricts freedom belongs more to the world of ideological polemic than to scientific-empirical evidence.
Based on Giebler, Heiko & Wolfgang Merkel 2016: Freedom and equality in democracies: Is there a trade-off? International Political Science Review, doi: 10.1177/0192512116642221
See also: Wolfgang Merkel & Sascha Kneip 2018: Crisis and Democracy. Wiesbaden: Springer.
Giebler photo by David Ausserhofer
Heiko Giebler is a Research Fellow of the Research Unit Democracy and Democratisation, WZB Berlin Social Science Centre. Wolfgang Merkel is Professor of Comparative Political Science and Democracy Research at the Humboldt University Berlin, Associate of the Sydney Democracy Network, University of Sydney. He is Director of Research Unit Democracy and Democratisation, WZB Berlin Social Science Centre.