The Netherlands has become the latest country to face a public backlash to environmental policy.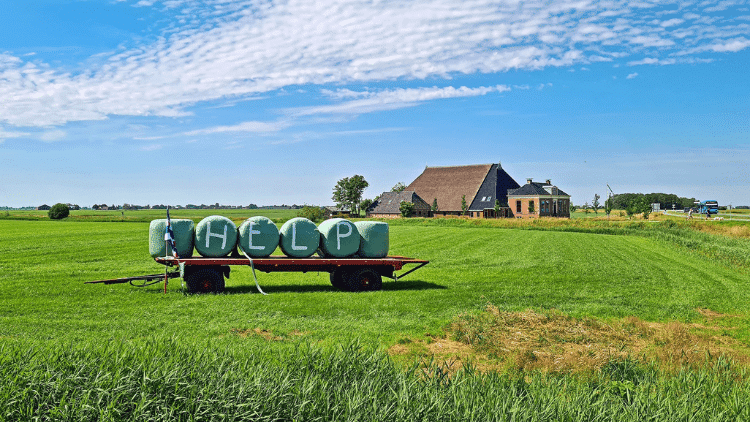 In elections last month in the Netherlands, a new protest party, BoerBurgerBeweging (the Farmer Citizen Movement), sailed to victory. The BBB won the largest number of votes of any party across all provincial councils, with knock-on effects to the indirect elections to the national senate next month. The movement-turned-party swept the board in reaction against the rapid, strict and far-reaching curbs on nitrogen pollution introduced by the latest government led by Mark Rutte.
The events that have unfolded in the Netherlands are the latest illustration of the need to do policy-making differently to realise the necessary socio-ecological transformation in a way citizens and communities will accept.
Challenging trade-off
Over recent decades, the Dutch government, as with many around the world, has been slow to take the steps needed to address a wide range of environmental issues. In 2019, the Netherlands' highest administrative court stepped in and held the government to account on the tardy implementation of its regulation of nitrogen pollution. The court ruled that the measures to limit the 'nitrogen crisis' had been insufficient.
As a result, more rigorous, wide-ranging controls were introduced. Farmers were not the only group who had to adapt but the implications for agriculture were profound, including compulsory purchase of farms near nature-protection areas. The new controls presented a challenging trade-off—protection of farmers' livelihoods versus protection of the environment.
Become part of our Community of Thought Leaders
Get fresh perspectives delivered straight to your inbox. Sign up for our newsletter to receive thought-provoking opinion articles and expert analysis on the most pressing political, economic and social issues of our time. Join our community of engaged readers and be a part of the conversation.
Sign up here
The Dutch Environmental Assessment Agency warned that the nitrogen strategy would not succeed. It foresaw that the government would face a series of lawsuits brought by farmers subject to forced buy-outs.
Gilets jaunes
Trade-offs are an inevitable part of decision-making in governments. A similar protest movement to the BBB is on the rise in Belgium. In 2019, the gilets jaunes in France made headlines around the world when they took to the streets en masse to protest against a planned fuel-tax increase which would disproportionately affect citizens in rural areas. In this case too, environmental concerns were prioritised without due consideration of how different groups would be affected.
Nor is this just an issue for rural communities. In the United Kingdom there has been a backlash against the '15-minute city', an initiative to promote sustainable mobility and local economies which has been labelled 'climate lockdown' by opponents. Such stories are part of a broader trend in which governments are trying to make up for the slow progress of the past towards sustainability with measures which meet social unrest.
Yet in the face of the climate emergency, breached planetary boundaries, biodiversity loss, water scarcity, soil depletion and a whole host of other indicators of ecological breakdown, environmental protection is critical. So, how can the green transition be achieved in a just way, avoiding the backlash seen in these and other cases?
Fast and slow governance
Many have focused on the specific deficiencies of the nitrogen rules leading to the Dutch farmers' revolt. But as well as looking at individual policies, long-term lessons need to be learned about the whole policy-making process. Changes are needed throughout the process to ensure environmental policies have the public acceptance they need to work.
When faced with urgent problems to solve, many policy-makers see participatory processes, co-ordination among ministries or across policy areas, thorough stakeholder engagement and detailed planning as just taking too much time. Yet they cannot afford not to take time with these processes, which are a precondition of securing endorsement of the policies needed for a just, green transition.
A 'fast' solution can end up being slower in the long run, when it leads to resistance and requires governments to reassess and reformulate policies in response. A 'slower' but more holistic approach to policy-making can help avoid sustained—even escalating—pushback.
Shared understanding
Effective governance processes are context-specific. The Netherlands has a large agriculture sector, so slashing nitrogen allowances will understandably have a big impact on this sector and those who earn their livelihoods from it—farmers.
Support Progressive Ideas: Become a Social Europe Member!
Support independent publishing and progressive ideas by becoming a Social Europe member for less than 5 Euro per month. You can help us create more high-quality articles, podcasts and videos that challenge conventional thinking and foster a more informed and democratic society. Join us in our mission - your support makes all the difference!
Become a Social Europe Member
Creating a shared understanding of the urgency of the environmental challenge is essential. The Netherlands uses citizen science techniques in other areas of environmental management to build collective knowledge among affected groups. These were not however used in this example to create a shared understanding about the scale of the problem and the impact on agriculture. Therefore, no deeper understanding was built for why the policies were necessary.
Ensuring the participation of a wide range of stakeholders who stand to gain of lose at the beginning of a policy process can help soften the impact of trade-offs. Starting participation early allows time to come terms with the sometimes drastic day-to-day changes required in this kind of transition.
Listening exercise
Giving Dutch farmers a way to participate in the process from the outset could have helped government to understand their worries and ease the cost of the transition. Such a listening exercise could have improved the outcomes for farmers and increased their trust in government by giving them a platform to have their concerns heard.
Specifically, it could also have improved the buy-out policy by enabling a better understanding of the full value of the farms affected and the socio-economic impacts of their loss. Participation could have enabled a situation where the policy proposal had higher acceptability in its early iterations.
Crucially, beginning these processes early—not as mediation after explosive protests—would have allowed for deeper understanding to be built and awareness raised about the transition, while enabling policies to be designed that could support farmers engaging in it.
Policy coherence
Co-ordination among ministries can enhance understanding of how one policy may affect the impact of others. Bridging the gap between environmental and social policy, to recognise the social dimensions of job losses and reskilling that come with phasing down an industry—in this case, agriculture—would have been an example of such policy coherence.
The Netherlands boasted about creating a Sustainable Development Goals co-ordinator, whose role was exactly to bridge gaps in relation to implementation of the SDGs. Such co-ordination is however needed not only on long-term goals but on more immediate policy responses too.
There are hard decisions to make across every sector as we make the transition to an economy that functions within environmental limits. While processes cannot make that go away, they can bring everyone together on the transition.
Process matters
Policy-makers should learn from the latest Dutch example: process matters. 'Shortcuts' are often ultimately much longer and can lead to adverse effects in other policy areas, provoking social backlash.
The policy-making process around the Dutch government's nitrogen-reduction rules undermined the effectiveness of the policy in realising its objectives. If the government had taken the transitionary steps required of it by both European Union and national environmental regulation, instead of waiting for the justice system to hold it to account, it would have had time to do the process well and in a manner which did not provoke backlash.
Now the next steps towards reducing nitrogen pollution will be harder. With the BBB's new role in both provincial and national government, environmental progress will likely be even slower.
Bringing citizens along
The deadline for implementation of the EU Water Framework Directive is looming in 2027. If the Dutch government learns lessons and starts early, this can be an opportunity to do things better and repair relations with farmers.
Beyond the Netherlands, if governments embark on 'slow governance' processes, they can avoid similar backlash to environmental-protection policies. Governments everywhere need to approach the policy process differently and use the tools at their disposal to bring citizens with them behind transformational green policies.
A new report from the ZOE Institute on how to deal with trade-offs in policy-making processes will be available later this month