As Europe's exchequers go deep into the red due to the pandemic, a co-ordinated approach to corporate taxation is ever-more urgent.
The Covid-19 pandemic has placed hitherto unimaginable pressure on public finances throughout Europe and around the world.
Yet while workers struggle to live on what assistance they can secure, multinational companies are able to manipulate their tax liabilities to make the lowest possible payments, and governments are squabbling over their responses. Hundreds of thousands of Europeans are now demanding fair and just tax rules.
Trade unions in Europe are pressing harder than ever for an effective minimum corporate tax rate—of at least 25 per cent—to shore up public budgets and promote social justice, as well as unitary taxation of multinationals and full transparency in company accounting methods.
According to the Tax Justice Network, over $427 billion (€358 billion) are lost as a result of international corporate tax abuse and private tax evasion each year. The graph below shows how corporate profits have soared in the United States since the war, while tax revenue has slumped.
Become part of our Community of Thought Leaders
Get fresh perspectives delivered straight to your inbox. Sign up for our newsletter to receive thought-provoking opinion articles and expert analysis on the most pressing political, economic and social issues of our time. Join our community of engaged readers and be a part of the conversation.
Sign up here
Corporate profits and corporate tax revenues in the US by year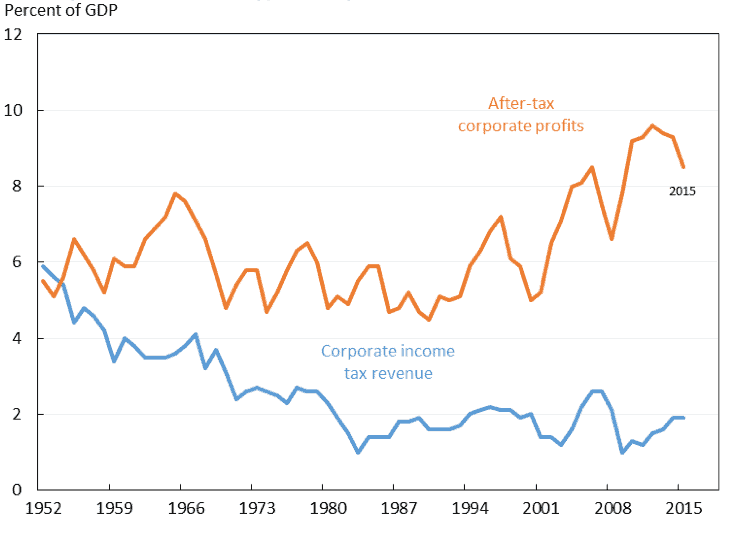 Lack of co-ordination encourages countries to compete through ever-lower tax rates to attract multinational business. International companies can select the most favourable tax regulations they find in one jurisdiction and shift their profits away from countries with higher rates, regardless of where their real activities take place. Since shifting profits is an expensive endeavour, it is the richest companies that are making the biggest gains.
The labour movement has long demanded an end to the under-taxation of international businesses and unfair and mutually harmful 'tax competition'. And yet, even in the midst of the pandemic, corporate taxation divides countries, preventing any constructive international framework emerging.
Locked in negotiations
The 37 members of the Organisation for Economic Cooperation and Development, responsible for two-thirds of the world's gross domestic product, have been locked in negotiations since 2018 on a minimum corporate-tax rate and a global end to tax-base erosion (the sought-after 'GloBe' agreement), as well as the taxation of businesses with huge global revenues and intangible assets but little or no 'physical establishment'. The taxation challenges of the digitalisation of the economy require profound and enduring responses.
While disagreement rages, even among European Union member states, on the taxation of digital companies, the European Trade Union Confederation demands urgent and decisive action on a common corporate-tax rate for Europe. Although the European Commission is not a negotiator in the OECD talks, it must come off the fence and set standards at EU level. This would have a snowball effect, paving the way towards a vital global consensus.
Member states' corporate-tax rates vary hugely (see table below). In 2019, France imposed the highest effective average rate, of 33 per cent, compared with just 9 per cent in Bulgaria. But what concerns trade unions is that in specific negotiations companies can secure rates as low as 2 per cent. Ireland, Luxembourg, the Netherlands and some eastern-European countries have been known to offer comparable incentives.
Ireland's refusal in 2017 to reclaim €13 billion in back tax from Apple, as instructed by the commission, is just one high-profile example of how ruthless tax competition is starving society of much-needed funds. Harmful tax competition has caused a decline in global average rates from 35 per cent in the 1990s to 21 per cent in 2018.
Effective average tax rates (%), large corporations in non-financial sector (computed at corporate level, for average asset composition and funding sources)
| | | |
| --- | --- | --- |
| | 2019 | Ranking |
| EU28 | 19.7 | NA |
| Belgium | 25.0 | 6 |
| Bulgaria | 9.0 | 28 |
| Czechia | 16.7 | 18 |
| Denmark | 19.8 | 13 |
| Germany | 28.9 | 3 |
| Estonia | 13.9 | 24 |
| Ireland | 14.1 | 23 |
| Greece | 26.6 | 4 |
| Spain | 30.1 | 2 |
| France | 33.4 | 1 |
| Croatia | 14.8 | 21 |
| Italy | 24.6 | 7 |
| Cyprus | 13.4 | 25 |
| Latvia | 16.7 | 18 |
| Lithuania | 12.7 | 26 |
| Luxembourg | 21.8 | 10 |
| Hungary | 11.1 | 27 |
| Malta | 25.3 | 5 |
| Netherlands | 22.5 | 9 |
| Austria | 23.1 | 8 |
| Poland | 16.6 | 20 |
| Portugal | 21.4 | 11 |
| Romania | 14.7 | 22 |
| Slovenia | 17.3 | 17 |
| Slovakia | 18.7 | 16 |
| Finland | 19.6 | 14 |
| Sweden | 19.4 | 15 |
| United Kingdom | 20.2 | 12 |
Source: European Commission
Corporate taxation has a profound impact on workers. Aggressive 'tax planning' corrodes wages, jobs and conditions and increases inequality. It deprives the workforce of a fair share of the profits generated, often redirected to tax havens through convoluted accounting strategies. The wage share of GDP has been falling around the world since the late 1970s, as companies syphon off capital. Furthermore, multinationals hide revenues through complex artificial structures such as shell and letter-box companies. This not only minimises tax bills but also damages accountability and workers' rights.
Support Progressive Ideas: Become a Social Europe Member!
Support independent publishing and progressive ideas by becoming a Social Europe member for less than 5 Euro per month. You can help us create more high-quality articles, podcasts and videos that challenge conventional thinking and foster a more informed and democratic society. Join us in our mission - your support makes all the difference!
Become a Social Europe Member
As corporations pay less tax, the burden shifts on to consumers and workers themselves, weakening public services and social protection. This is all the more indefensible in the midst of the Covid-19 crisis, when governments are incurring huge debts to ensure economic survival. Companies which use tax havens should be barred from receiving bailout funds intended to support struggling businesses.
As signalled, trade unions are demanding a unitary taxation system, whereby each multinational's profits are calculated on a global scale and payments shared out between the countries where its real economic activity—measured by assets, employment and sales—has taken place. We are calling for a global end to tax-base erosion and a level playing-field for corporate taxation.
Effective minimum
The ETUC is also opposed to any threshold for the enforcement of a minimum tax rate. Some governments have mooted a €750 million turnover requirement but this would enable the great majority of multinationals to escape further obligations.
It could be argued that any effective minimum is better than none—a rate of 12.5 per cent has been mentioned in the OECD talks. But there would be a dangerous risk of such a low floor turning into an unacceptable ceiling.
The ETUC is pressing for an effective minimum tax rate of 25 per cent. There is no point in aligning a minimum rate with that of tax havens or countries with harmful practices. Exceptions should be limited to the strict minimum, for example institutions with a social purpose such as pension funds. Patent boxes—used by some countries to encourage research and development by taxing patent revenues at a lower rate than other commercial incomes—must be fully included within the scope of reform.
Last but by no means least, Europe needs greater tax transparency—the most effective weapon for risk assessment and identifying fraud and tax avoidance. This means country-by-country reporting of revenues and profits, with each company office accountable to its national authorities. Reporting currently kept confidential by companies and authorities must be open to scrutiny.
Trade unions must be able to study and assess company tax declarations, to understand the employer's financial situation, its position in multinational structures and the scale of investment in low-tax jurisdictions—not least to prepare for collective bargaining and wage claims. While the European Parliament has long approved this principle, the Council of the EU has been blocking it for years.
Demanding action
With the German EU presidency again failing to put a proposal for country-by-country reporting on the Competitiveness Council agenda for a vote this week, some 228,000 people have signed a petition and many more have taken part in a Twitter campaign demanding action.
The commission needs to pursue fair taxation as part of its programme for recovery following the pandemic, including country-by-country reporting, unitary taxation and a minimum corporate tax rate of at least 25 per cent. The ETUC has proposed the setting up of a European Agency for Tax Coordination, which would also combat tax fraud.
A rethink of tax policy within the EU is vital to public investment in infrastructure, education, healthcare and social protection. We urgently need decisive tax reform, carried out in consultation with stakeholders, including trade unions, to close loopholes and combat evasion.
The OECD has committed to reaching an agreement by mid-2021 but governments need tax revenue now to handle the Covid-19 crisis. Trade unions will keep up the pressure to end company tax avoidance and achieve fair taxation.
This is part of a series on Corporate Taxation in a Globalised Era supported by the Hans Böckler Stiftung
Liina Carr was re-elected confederal secretary of the European Trade Union Confederation at the ETUC Congress in 2019.