The EU should have seen this crisis coming and deployed sanctions against its 'reliable energy partner'.
As a result of the Azerbaijani attack on the Armenians of Nagorno-Karabakh on September 19th and the forced exodus that followed, this region will soon be empty of Armenians—for the first time in more than two millennia.
This tragedy could have been avoided. The New York Times recently claimed that 'almost no one saw it coming'. Nothing could be more wrong: Armenians, as well as those who have followed the conflict, warned for a long time that this was coming. The global community and its institutions, including the European Union, arguably let Azerbaijan get away with its military adventures, which only spurred the country on.
In the summer of 2022, the president of the European Commission, Ursula von der Leyen, visited Baku and concluded an agreement on gas supplies from Azerbaijan to Europe. She has several times since praised the country as the EU's 'reliable energy partner'.
Bolstered by this backing, a few months later Azerbaijan launched an attack, not on Nagorno-Karabakh but on several areas inside Armenia itself. Since, Azerbaijan has occupied more than 100 square kilometres of Armenia's uncontested and internationally recognised territory. The EU could only appeal for restraint and was relieved when the fighting stopped after two days.
Global inaction
In December 2022, Azerbaijan began a blockade of the Lachin corridor, the only connection between Nagorno-Karabakh and Armenia. In February, the International Court of Justice in the Hague issued a binding order that Azerbaijan must immediately allow unimpeded movement of people and goods along the corridor. Azerbaijan ignored this.
During the summer, the situation worsened for the 120,000 residents of Nagorno-Karabakh, with acute shortages of food, petrol and medicine. Malnutrition was rife. The situation became so serious that several organisations warned of a possible genocide.
Become a Social Europe Member
Support independent publishing and progressive ideas by becoming a Social Europe member for less than 5 Euro per month. Your support makes all the difference!
Click here to become a member
At the beginning of August, Luis Moreno-Ocampo, a former prosecutor of the International Criminal Court, issued the expert opinion that what Azerbaijan was doing 'should be considered a Genocide under Article II, (c) of the Genocide Convention'. The article gives as one definition of genocide as 'Deliberately inflicting on the group conditions of life calculated to bring about its physical destruction in whole or in part'.
During the more than nine months the blockade lasted, western leaders issued condemnations and demanded that Azerbaijan lift it. But no measures whatsoever with force were put behind this demand and there were no sanctions—or even threats.
The government of Azerbaijan understood the signals. One can bring a humanitarian crisis to more than 100,000 people, even to the brink of genocide, without suffering anything but verbal condemnations.
'Ethnic cleansing'
After the latest escalation, various prominent EU representatives have once again condemned the use of force and made various appeals. It is as if they do not see what is in front of them: the aggressive plans of authoritarian states are not stopped by condemnations and appeals. Much sharper measures are required.
The government that ran what Armenia called Artsakh, or the Republic of Nagorno-Karabakh, has collapsed. Its president, Samvel Shahramanyan, has declared that the state will be formally dissolved at the end of this year. The United Nations has estimated that 88,000 of its 120,000 inhabitants have already fled to Armenia.
Azerbaijan claims that they were not forced to do this, that they fled voluntarily. On a superficial level, that is correct, as no Azerbaijani soldiers forcibly removed them. But they are not fleeing voluntarily: they have been put in a situation where they have no choice. In just over 30 years, Azerbaijan has attacked them four times.
In 2020, many of them sat for weeks in bomb shelters while Azerbaijan attacked with missiles and drones. This summer they have endured acute shortages of food and medicine due to the illegal blockade.
The last straw was the 24-hour bombardment on September 19th, which finally drove the ethnic-Armenian population from their homes. It is correct to call this 'ethnic cleansing'.
Five days before the Azerbaijani attack on the enclave a representative of the United States government said that the US would not tolerate the ethnic cleansing of Nagorno-Karabakh. Now however it has happened and Washington seems to tolerate it, if the lack of sanctions against Azerbaijan is any indication.
Not over
There is reason to remain concerned about Azerbaijan's plans. After the suppression of the Karabakh Armenians, the president of Azerbaijan, Ilham Aliyev, reiterated that he sees 'western Armenia' as historical Azerbaijani territory, which Azerbaijan therefore has the right to reclaim.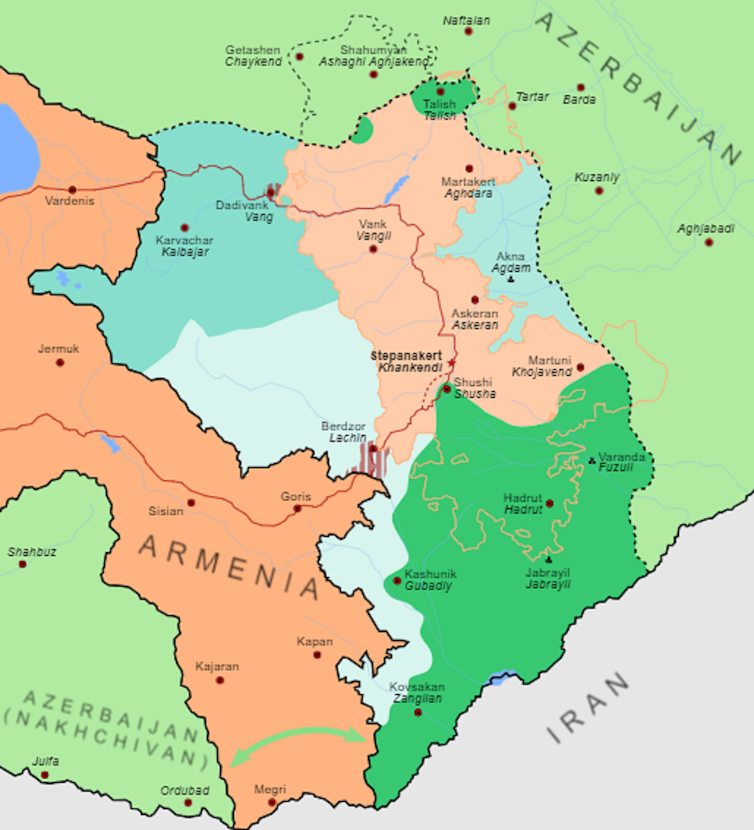 By this he means Armenia. In these plans, he has the full backing of Turkey. The first target will be the southern part of Armenia, the province of Syunik, which Azerbaijan calls Zangezur.
Resolute action from the west is needed to ensure that the aggressive Azeri regime does not, in its current victory rush, embark on new military adventures. The EU could introduce sanctions against this regime—something more than 60 MEPs from different party groups have recently demanded.
Azerbaijan's assault on Nagorno-Karabakh must have consequences. Should the regime in Baku get away with this with impunity, it will be inspired to continue its aggression against Armenians. This would be a dangerous signal to leaders of other authoritarian states.
The lesson of the tragedy now unfolding in Nagorno-Karabakh is that condemnations and appeals do not stop the aggression of authoritarian states. Only sharp measures can do that.
This article is republished from The Conversation under a Creative Commons licence
Svante Lundgren is associate professor of Jewish Studies at Åbo Akademi University, Finland and a researcher at the Centre for Theology and Religious Studies and the Centre for Advanced Middle Eastern Studies at Lund University, Sweden. He has published extensively on the Armenian genocide.